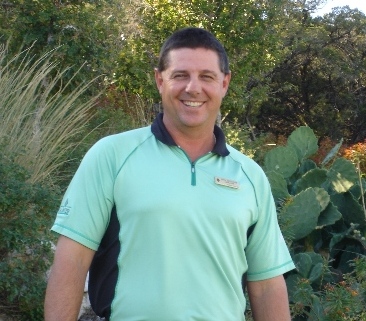 Mike Vardeman, PGA
Director of Instruction
2008 South Texas PGA Harvey Penick Teacher of the Year
For reservations and more information call The Academy at La Cantera:
Local 210.558.5503
Biography
Mike Vardeman was born in Clovis, New Mexico in July of 1962. He began playing golf at the age of five and had a very successful junior golf career. In high school, Mike was district medalist three times, named to the New Mexico All State Team three times, and tied for medalist honors his senior year. In 1980, He received a golf scholarship to Eastern New Mexico University in Portales where he played four years of college golf while studying business and physical education.
In 1985, Mike moved to Dallas, Texas to work at the TPC Course home of the Byron Nelson PGA Golf Tournament. For six years he organized and led teaching operations of the junior golf programs as well as ladies and men's clinics. Mike gained a great deal of knowledge and experience from such instructors as Byron Nelson, Ken Venturi, Bob Toski, Mike Dunaway, and Dr. Gary Wiren.
Mike moved to Austin, Texas in 1992 to help start the Harvey Penick Golf Academy as the Head Instructor under Bryan Gathright (recognized as Golf Magazine's Top 100 Instructor's). Mike also gained a great deal of invaluable teaching experience under the guidance of Harvey Penick. At Golfsmith, Mike also taught the Advanced Club Fitting Schools as the Head Instructor under the direction of Tom Wishon, world renowned golf club fitting and design expert. Mike specialized in "Teaching the Golf Swing as it Relates to Clubfitting."
Adult Rates
Twosome Card & Annual Pass: $90
1 lesson: $120
2 lessons: $200
3 lessons: $270
Each lesson is 1 hour
Twosome Card & Annual Pass holders will not recieve any discounts on lesson series or pacakages
Junior Rates
Twosome Card & Annual Pass: $80
1 lesson: $90
2 lessons: $170
Each lesson is 1 hour
In 1996, Mike moved to San Antonio Texas to begin operations at The Academy at La Cantera, at that time, the home of the Valero Texas Open. As the Head Instructor from 1996 to 2006 at the Academy at La Cantera, Mike was also Head Instructor for Golf Digest Schools for five years. Mike was honored to spend time with the great instructors of the game; Tim Mahoney, Mike LaBauve, and Gale Peterson (all Golf Digest Top 100 Teachers).
In 2007 Mike was named Director of Instruction of The Golf Academy at La Cantera where he now teaches private lessons, golf clinics, team building and corporate clinics, as well as performs club fitting with Callaway and Titleist. In 2008 Mike received the Southern Texas Harvey Penick teacher of the year award. Mike has written articles for Golf Digest, Asian Golf Magazine, Texas Golfer and other magazines. Mike also did golf tips for local TV KENS and cohosted a Radio Golf morning show on the Ticket 760. Mike is a PGA member who loves to stay active and spend time with his family.
In 2007, Mike was named in the Golf Digest instructor rankings for Texas at #17!